Playing outside with the best outdoor toys can be incredibly enjoyable for children, regardless of whether they are toddlers or school-aged. It's a great way to encourage them to step away from the screens and actively engage with their surroundings. 
Mummy has a common complaint that kids are attached to smartphones, tabs, or television. In that case, the best solution is outdoor playing. It is the most effective way to keep your child busy with physical activities. 
Now, you may ask what are the best outdoor toys for toddlers? Here is the list of popular outdoor toys. So keep reading!
Top 10 Outdoor Toys For Toddlers
When selecting outdoor play equipment, it's important to consider its suitability for your child's age. If a toy is designed for older children, toddlers may not show interest in it, or maybe they would be unsure of how to play with it.  
The developmental stage is crucial for the little ones' enjoyment and growth. Therefore, it's always advised to choose toys that are specifically tailored to their age.
  1. 5 In 1 Swing-Slide Play Ground Combo For Kids

OK Play presents some of the most attractive and enjoyable outdoor play for toddlers, one of them is 5 In 1 Swing-Slide PlayGround Combo For Kids. Kids are bound to have a great time with this toy which comes with numerous play options such as swing, slide, basketball, football and hockey. 
The toy has been made to let the little ones get boundless enjoyment. Needless to mention, kids will have a blast while exploring, sliding, swinging, climbing, and bouncing on this exciting playset. No sharp corners, non-toxic material, and UV-stabilized color are special features that make the perfect addition to any backyard.
  2. Roller Coaster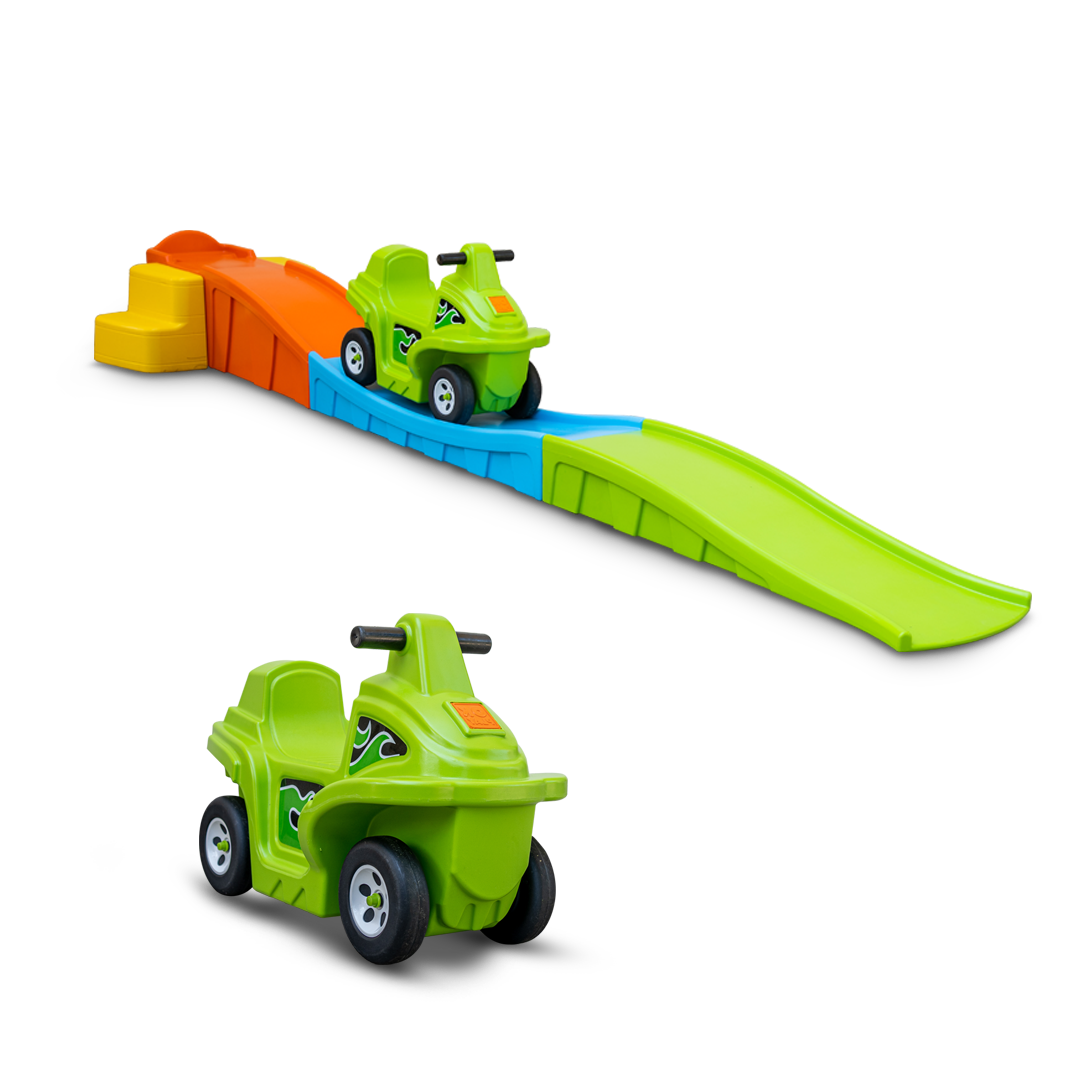 Calling all kids with the "Mini Thrills" roller coaster. It is designed especially for toddlers! The vibrant colors of the toy instills a sense of excitement amongst them. Additionally, this toy provides endless outdoor fun and learning opportunities. Stepping feature, 3 piece riding track, platform steps, and coaster car engage kids to practice gross motor skills. 
With gentle slopes and exciting twists, it provides a thrilling yet safe experience. OK Play Roller Coaster encourages active play in a safe and secure way.
  3. Dino Slide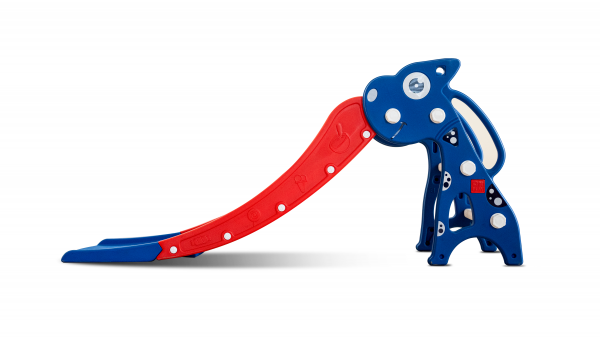 This red and blue combination Dino Slide is perfect for 2 to 3 years old children. A child always likes a slider. By keeping this in mind, we have manufactured this outdoor toy for toddlers.
This slider has a basketball holder. It provides a delightful and imaginative experience for children. This adorable outdoor toy captures the essence of a riding slide. With solid & safe construction, little ones can embark on exciting make-believe playful journeys with this.  
  4. 3 In 1 Slide Along With Rocker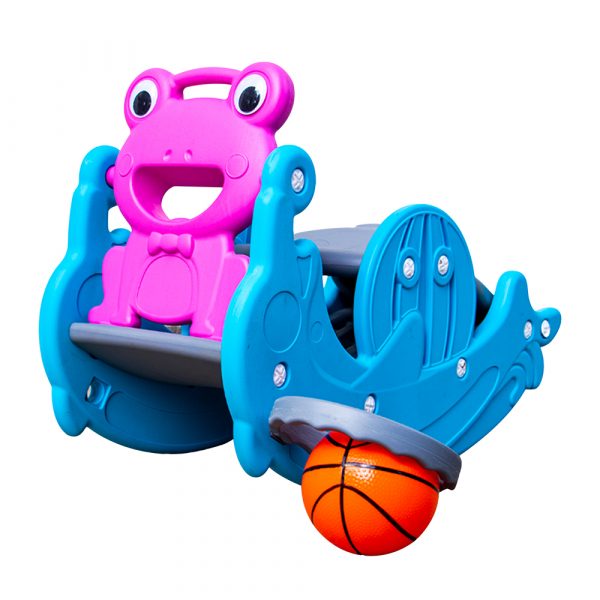 3 In 1 Slide Along With Rocker is a wonderful outdoor toy for toddlers. Children can slide and rock with this toy. This toy made by OK Play has been designed especially to let the little ones have a memorable childhood filled with endless fun. The easy-to-assemble feature paired with the vibrant colors of it adds some more brownie points to it. Children laugh and squeal as they play this.  
Let your kid experience the ultimate 3-in-1 versatile indoor/outdoor slider, basketball, and rocker! This multifunctional toy enhances balance while providing endless fun. If you are looking for a perfect gift for your little ones, then it will be the best outdoor toy for toddlers.  
  5. Baby Slide Supreme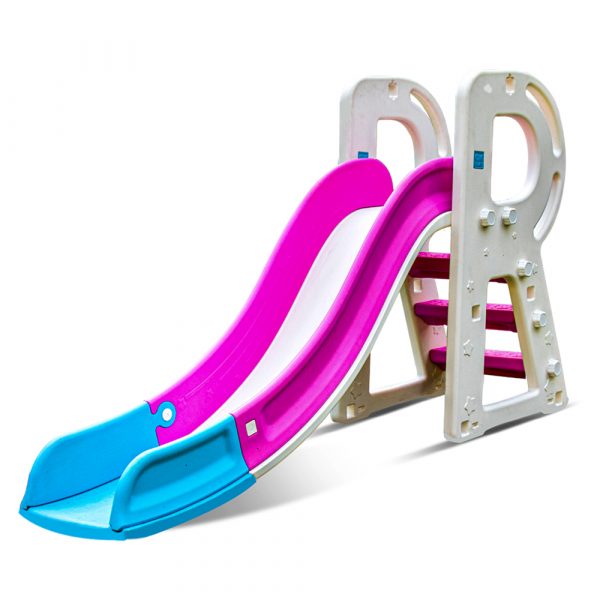 Introduce your little bundle of joy to the fun of sliding with this perfect beginner's slide, which is specially designed for younger kids. The toy is a breeze to assemble without any tools required. Whether indoors or outdoors, this slide provides endless fun. 
It's ideal for children aged 1 year and above. Made from non-toxic, durable LLDPE and plastic materials this toy also ensures the safety of your child. Portable, lightweight, and free of sharp edges, it's both weather-resistant and waterproof. 
This slide features anti-oxidation, anti-slip, and anti-UV properties, ensuring sturdiness and durability. Every minor detail has been carefully considered to provide the safest product for your baby, promoting their coordination abilities.
  6. Big Swing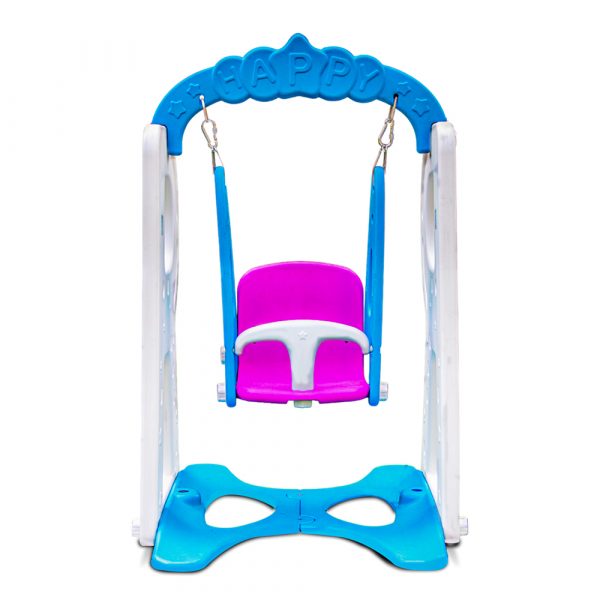 Baby Swing ensures your baby's safety and enjoyment as it offers a secure and durable structure.  It is perfect for creating childhood experiences keeping your baby safe and comfortable. 
With vibrant colors, it is sure to bring a smile to your child's face. Whether it is used indoors or outdoors, Big Swing can be added in the playground. This swing set provides a harmonious blend of safety, style, comfort, and fun for your little ones.
  7. 2 In 1 Slide Basketball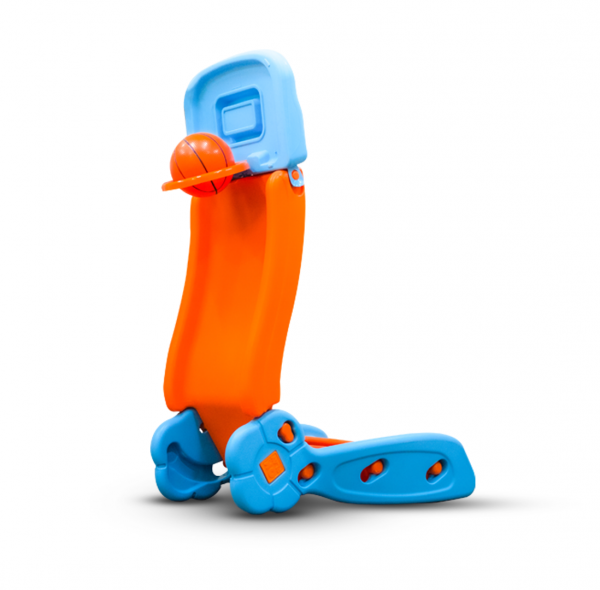 Introducing the ultimate sports innovation: the 2-in-1 Slide & Basketball! This revolutionary device combines the thrill of sliding with the excitement of shooting hoops. Slide down the ramp, release the ball, and aim for the basket. It's double the fun in a single playtime adventure. Get ready to slide and slam-dunk!
Kids can try to stay atop the spinning log as it rolls, testing their agility and skill. It's an exciting challenge that brings a sense of adventure at outdoor playtime. Additionally, it promotes active and engaging play.
  8. 3 In 1 Basketball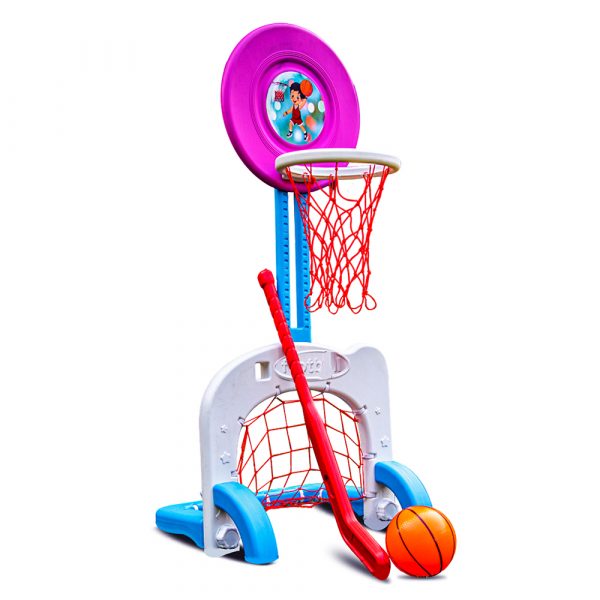 The OK Play 3-in-1 Basketball is designed to be adjustable, making it perfect for kids of all ages. Setting it up is a breeze, as no tools are required for its assembly. 
Additionally, it can be easily assembled and is suitable for both indoor and outdoor use. Children rebound to have a fun-filled playtime with it while they throw the ball into the dedicated basket. Its stable base does not require any additional support, as it is heavy enough to withstand powerful shots from children and even parents. 
  9. Swing & Basketball Set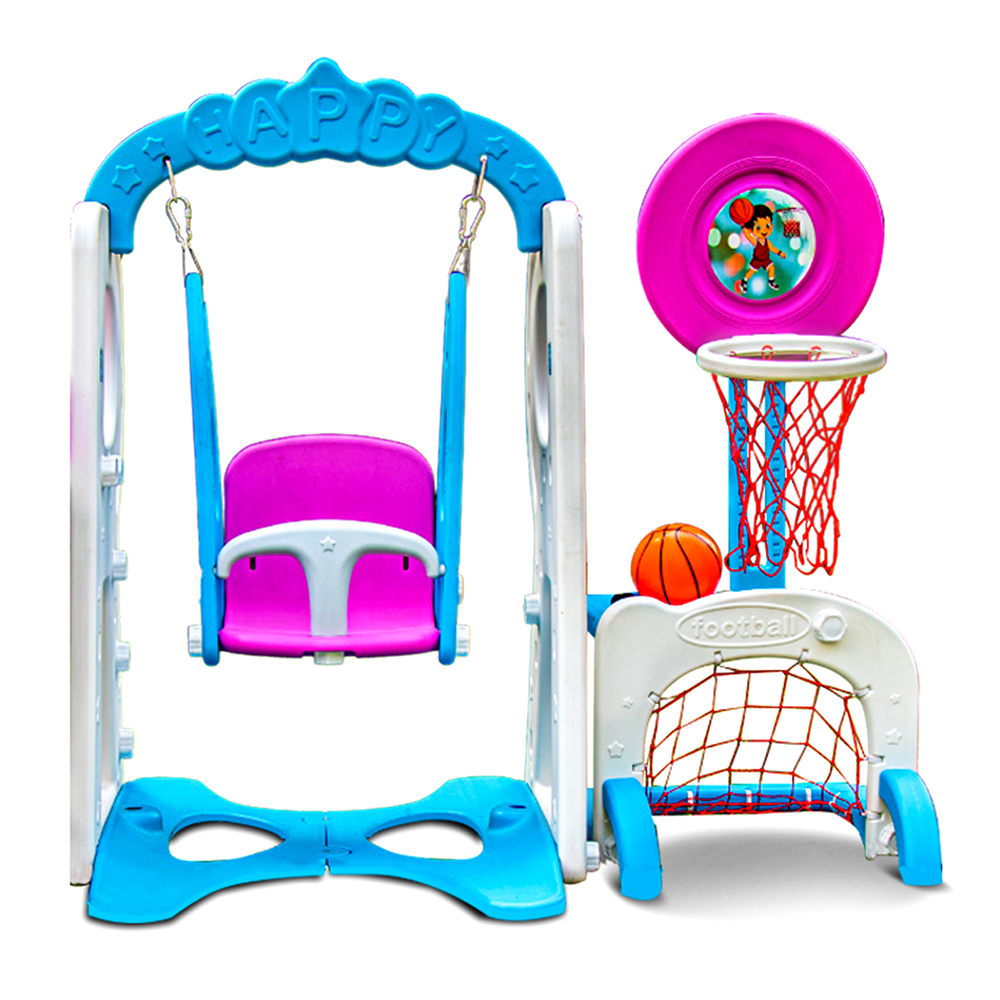 The Swing & Basketball Set is one of the most exciting outdoor toys for toddlers. Its comfortable seating area gives your child a boundless swing experience. Additionally, this toy offers basketball and football goal post features that gives double entertainment. 
It is the perfect playset for an outdoor area. Its vibrant color encourages kids to play with it. This multi-rounder toy promotes active and engaging play. You can easily install this toy set without any tools. Let's bring this for your child to give them fun activity. 
  10. World Cup Cricket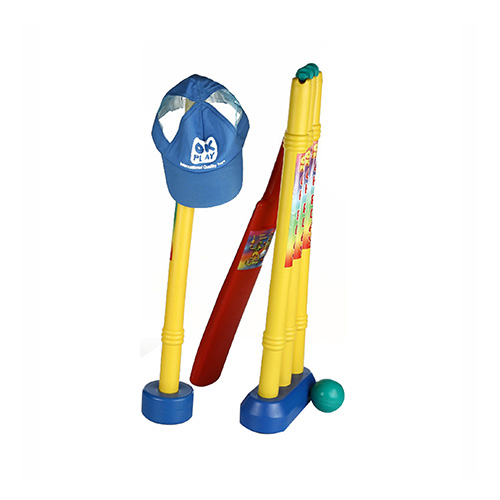 Children's eyes bloom with excitement the moment they hear the word Cricket. To make the toddlers' childhood days be filled with happy times, OK Play has launched the World Cup Cricket. Especially designed for children aged 2-5 years, this outdoor play equipment provides excellent opportunity for kids to bond with friends and family.
World cup Cricket is specifically crafted to be lightweight. This enables the little players to execute a diverse range of shots effortlessly, without excessive exertion. It offers fun and convenience for an enjoyable cricket time.
Wrap Up
When it comes to outdoor toys for toddlers, safety and durability come to mind first. Ok Play manufactures waterproof, UV protection with PVC-coated outdoor toys. 
To choose outdoor toys for toddlers, we recommend considering children's age group and top-quality toys. Let kids enjoy their childhood experiences safely and happily.
More Resources